«United in one heart, we will do ten more times»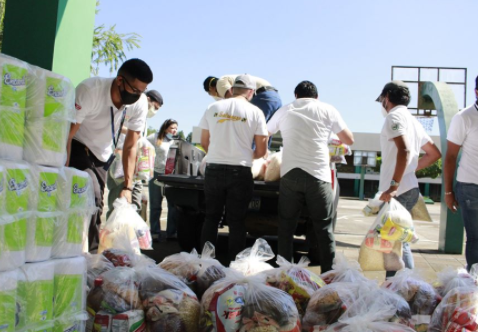 June 15, 2020
Saint John Bosco
Salvadoran families go through difficult times, given the national emergency due to the COVID-19 Pandemic, and the recent rains. According to data provided by the Government of El Salvador, a total of 29,968 families has been affected.
Following the noble example of Saint John Bosco, and with the commitment to support the population, FUSALMO El Salvador joins its Salesian brothers from Colegio Salesiano San José and Instituto Técnico Ricaldone. The purpose is to provide assistance to affected families, dedicating itself to the collection, distribution and delivery of food, clothing and hygiene items, making its facilities available as collection centers.
FUSALMO El Salvador also collaborated with Colegio Salesiano San José e Instituto Técnico Ricaldone, providing support in the logistics process and distribution of items to deliver aid to communities and shelters where affected individuals and families are. Furthermore, FUSALMO donated 10 quintals of bulk corn to Colegio Salesiano San José to be deliver in the food baskets.
«The joint effort made by the Colegio Salesiano San José community and FUSALMO, has allowed us to bring help to more than 300 families in Santa Ana, due to the double national emergency due to COVID-19 and the storm Amanda. Through this apostolate we want to live the words of our father Saint John Bosco: "Where charity reigns, there is happiness."
Lilian Noubleau – Social Communicator. Obra Salesiana San José
"When we decided to make the collection center it was on our own, but between salesian institutions we joined. There were people related to FUSALMO who wanted to donate, but they could not go to Soyapango. We coordinated and the aid was redirected to our collection center. When FUSALMO began with the initiative to provide food in shelters, we supported and provided clothes to those in charge of food delivery. FUSALMO contributed with their social networks so that they would come to leave their donations here at Instituto Técnico Ricaldone".
Fr. Mario Alberto Aldana – Principal of Instituto Técnico Ricaldone
"Due to the situation caused by COVID-19, FUSALMO proposed the initiative to give Solidarity Baskets of Joy to young people belonging to our programs and inhabitants of nearby areas. The second action we made were due to the damage caused by storms Amanda and Cristobal, supporting affected communities and sheltered people. Thanks to the efforts of the salesian work, help has been given to families in San Salvador, San Miguel and Santa Ana. We have to unite because there are still many people in difficult situations and together we can help reach more families».