FUSALMO and Hermano Lejano Foundation, based in the USA, deliver solidarity baskets to families affected by storms Amanda and Cristóbal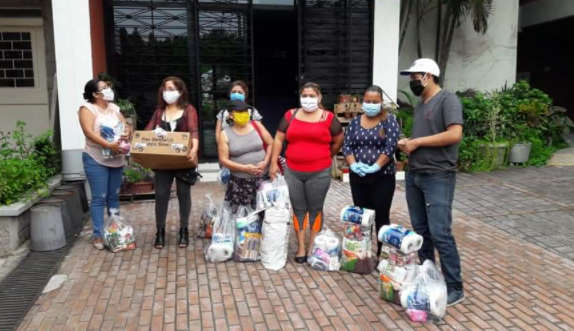 June 15, 2020
On June 9, 2020, at the FUSALMO Soyapango facilities, five baskets were delivered to families residing in Colonia Las Margaritas who have been affected by the current situation.
As part of the commitment to the community, FUSALMO stands in solidarity in the face of emergency due to COVID-19 and storms Amanda and Cristóbal. Works together with other institutions, friends and benefactors to be able to provide help to families of girls, boys, adolescents and young people and in this case the delivery is made thanks to the Hermano Lejano Foundation, represented by Berta Luz Campos.
«We have started with funds from the program, with friends, with entrepreneurs who willingly decide to help. There are businessmen even from Mexico who are supporting El Salvador. We are a united Hispanic community."
Berta Luz Campos
FUSALMO El Salvador thanks all the people who have #HelpToHelp. If you want to join this initiative you can do it in the following ways:
Via Paypal https: //www.paypal.com/donate/? Token = bebm_h8pOzNdlXM14Bgnbkpzr4m8ixr0NzhcXBd7iBTso5lPx9lnBKAl408M4GQq-hJpyG & country.x = SV & locale.x = SV
Make your donation to the account of DAVIVIENDA Bank No.031510025574, to Fundación Salvador del Mundo.
Or through our website: www.fusalmo.org
With your collaboration it is possible to reach more homes and benefit more families, be part of this great work.
Contact for donations and support: Lilia Ivett Padilla – Development Manager of FUSALMO / 503 7848 5275 / liliaiv@fusalmo.org