Breakfast with allies and benefactors.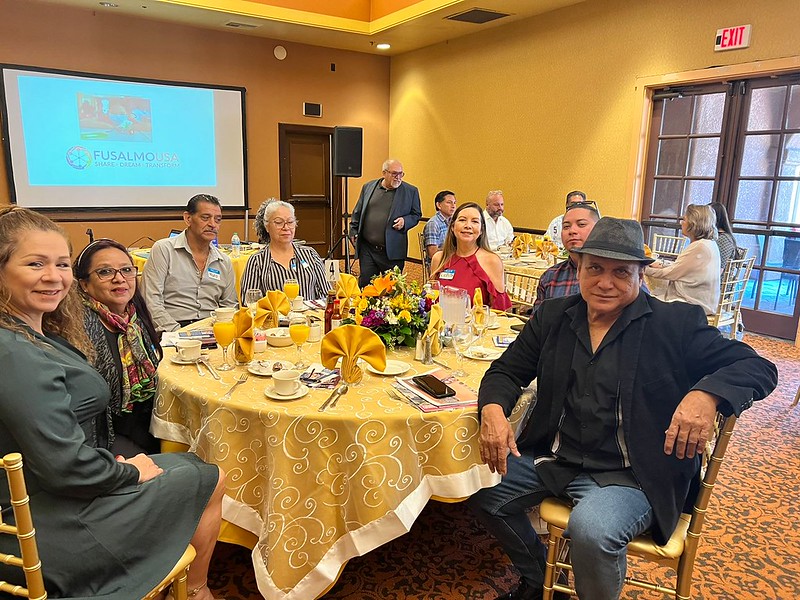 Last Agust 27th, FUSALMOUSA has the oportunity of share a breakfast with friends, allies and benefactors, with the objective of share achievements, experiences and challenges that has working in favor of childhood and youth.
In the activity we have the agreeable presence of Reyna Día, who is FUSALMOUSA´s President, who gave the greeting words and welcome to the guests. Guadalupe Orellana, member of board of directors, who presented the impact as a result of the FUSALMOUSA´s support to different programs that promote education and development of childhood, youth and adolescences in El Salvador, which stand out, educational scholarships, comprehensive care and hydration in sports programs to avoid violence, donations in technological equipment, houses' reparation, solidary baskets, also: Enterprises, organisms and media that contribute to the development of the performance.
As always having in mind the principal objective of generate spaces and opportunities to an integral development, FUSALMOUSA look for the expansion of their activities presenting the program L.A. Scholarships and his first beneficiary, Jorge Shafick Trejo, Hispanic young who received a money check to continue with his superior studies in the Cal State University, Los Angeles.
The event also counted with the pleasant presence of Father Pierre M. Vitelli, President of FUSALMO, an NGO in El Salvador that is supported by FUSALMOUSA that together have beneficiated to over 459,985 girls, boys, young and adolescents through the different programs and projects, achieving the participation in 1760 schools of risking zones in more than 160 municipalities belonging to the 14 departments of the country.
For FUSALMOUSA, it is for utmost importance the help that receives from their allies and benefactors because it allows carry opportunities and education to the childhood and youth with a focus in the new technologies.