FIFTH DINNER OF JOY IN LOS ÁNGELES, CALIFORNIA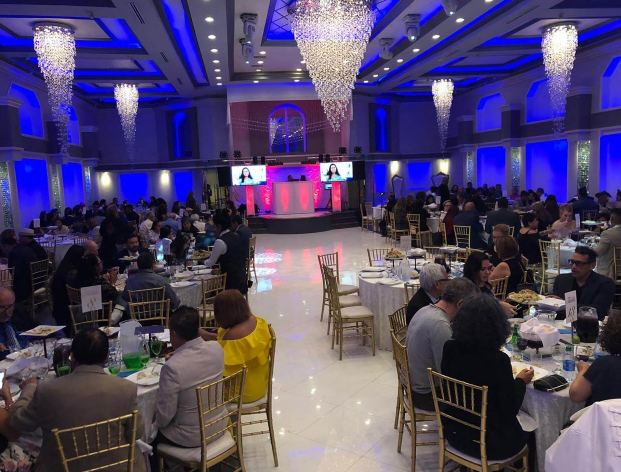 October 5, 2019
On October 4, 2019, at the Louvre Banquet Hall, Los Ángeles, United States, the V Dinner of Joy was held, in commemoration of the fifteenth anniversary of the creation of the Don Bosco Program (PIJDB).
The General Consul of El Salvador in Los Angeles, Alicia Villamariona, and representatives of FUSALMO El Salvador attended the event.
This was conducted by Carla Vila, a famous Salvadoran actress in the United States, and Balvino Avilés, presenter of Telemundo. The musical part was accompanied by Erika Constante, a former member of Nenas de Caña Group, Alex Gaona, and Alexander Quintanilla.
The guest speaker was Alfonso Víquez, a specialist in education who works in FUSALMO. He spoke about education in El Salvador, and how this is the most effective method for preventing violence.
The night was full of surprises. Adrián Manzano, a young beneficiary and currently a collaborator of FUSALMO El Salvador, who through his experience is transmitting all his knowledge to younger people, also participated.
The Don Bosco Program is an educational program based on the Salesian Charism, that supports the National Curriculum of Formal Education of El Salvador. This seeks to strengthen capacities and abilities in children, adolescence, and youth of public schools. The program also seeks to strengthen support networks between families and prevent risk behaviors in the children and youth with whom we work. So the Family Care Center (CAIF) was also created where they learn about a culture of peace, leadership, a project of life, among other methodologies. Don Bosco Program has provided complimentary education during the last 15 years to 103,568 girls, boys, adolescents and young people from the departments of San Salvador, Santa Ana, and San Miguel, in more than 141 educational centers of the public sector.